Latest News at In a Pickle

Spotlight on Stockists: Hartley & Neston Farm Shops
Welcome to a new series on the In A Pickle blog! We've been making your favourite pickles, chutneys and savoury condiments for seven years now, and along the way we've built up an amazing network of stockists that we just couldn't do without. Now, we're going to celebrate a few of those fabulous stockists on our blog – starting with Hartley and Neston Farm Shops…
Hartley and Neston Farm Shops, both based in the beautiful Wiltshire countryside, are a bit of a foodie destination for locals who love their grub. Hartley Farm has been owned by the Bowles family since 1970s, but with the landscape (both literally and metaphorically!) undergoing huge changes over the past few decades, in 2007 Tom Bowles, the fifth generation of family farmers, decided it was time to mix things up, opening a farm shop and restaurant. The farm's primary focus is now beef, with a herd of Aberdeen Angus cattle supplying the farm shop with incredible meat that's guaranteed high welfare and 100% traceable. Hartley proved such a success that in 2015, Tom and the family took over a second site at Neston Farm Shop and Kitchen, with the same focus on fresh, local produce.
Hartley Farm was our first stockist, and Sweet Pickled Cucumber our first product!
It seems like a long time ago now, but Hartley Farm Shop was In A Pickle's very first stockist – so they've got a rather special place in our hearts. Steph started In A Pickle with a few of her own recipes, knowing that they were family favourites but without any idea whether the public would love them too, so when Hartley Farm Shop took them on it was a huge confidence boost. Seven years later our partnership is still going strong, and we pop in to run regular tastings of our favourite products in the shops at Hartley and Neston. Both shops are absolutely stuffed full of local goodies as well as farm produce and delicious fresh treats made onsite, and we think it's brilliant how they support small independent producers in the area.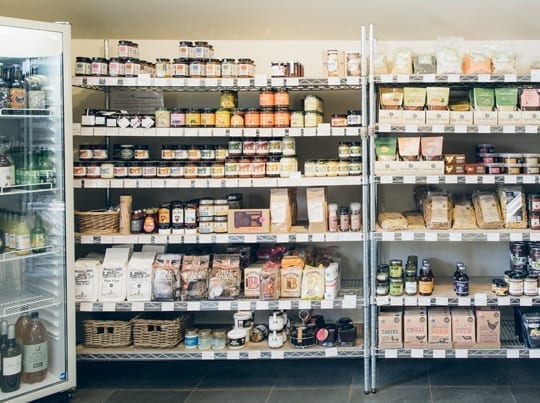 Both farm shops stock a huge range of local produce - can you spot In A Pickle on the shelves?
One of the things we particularly love about Hartley and Neston is that they're always looking for new ways to do their bit and make the world a better place. Not only do they champion local producers and insist on the highest welfare standards, both for their own livestock and for that of their suppliers (like the marvellous Castlemead Poultry), but at the beginning of 2018 Hartley announced that they'll be scrapping traditional takeaway coffee cups for a fully compostable version, plus offering a discount for anyone who brings in a reusable cup. We think they're setting a great example and couldn't agree more with their philosophy that "it's the combination of lots of little acts that make a big change" – that's why we also insist on recyclable packaging, sourced from other small Somerset companies.
Hartley & Neston run all sorts of fabulous events
Speaking of coffee, if you're planning a visit to Hartley or Neston (and if you like good food, we can't recommend it highly enough) you must make time for a stop at the Kitchen, for fabulous breakfast, lunch or coffee & cake in a cosy, chilled-out environment. There's also a fantastic programme of events at both locations, including regular supper clubs, quiz nights and craft courses. Frankly, there's something for everyone here, so whether you're looking to stock up on your favourite In A Pickle products or not, we can't recommend Hartley and Neston enough.
Courgette Crisis!
You might have noticed that lately there have been some conspicuous gaps in the supermarket fruit & veg aisles. Bad weather in Europe has hit the harvests hard – and that's a particular problem for the UK, as we import a staggering 50% of vegetables and 90% of fruit...
Here at In A Pickle, we were planning to replenish our stocks of Gamekeeper's Relish, one of our runaway Christmas bestsellers, after the festive season, but came up short when courgettes suddenly became scarce (and rocketed in price, to boot). It seems courgettes particularly hate the cold, so lower than usual temperatures in Europe have been a serious problem for one of our favourite vegetables. It threw us into a right quandary, because we didn't want to let our customers down, but courgettes were getting costlier by the minute.
They weren't the only vegetables affected, either – from lettuce and broccoli to aubergines and peppers, all sorts of crops are coming up short. Difficulty planting – flooding in Spain has made around 70% of fields inaccessible – may mean that supplies later in the year are affected too.
So what's the moral of the story? If you want to ensure the supply, you've got to grow your own! We love using as much local, seasonal produce as possible, and this has given us another reason to work as hard as possible on increasing our local sourcing. We'll definitely be planting courgettes for next year – and meanwhile, we've paid three times what we'd usually expect for our courgettes, just to make sure our favourite pickle fans weren't disappointed. Here in the UK we might have gotten used to delicious fresh produce from all over the world, but it's only when it stops coming in that we realise how important it is not to take those wonderful ingredients for granted.
In A Pickle Christmas Gift Guide
Right! It's now December, which means it's officially Christmas and you need to crack on with the shopping. But before you panic, cast your eye over our fabulous In A Pickle gift guide, which has everything you need – and then pop down & visit us at the Bath Christmas Market, where we've got a huge range of beautiful packaging and wrapping options, exclusive special offers and the fabulous new Bath Cook Book, featuring In A Pickle, for a great price of just £8.50. While you're there, get yourself a large mug of mulled wine, and voilà – no more Christmas panic.
For the bakers – have you checked out our fabulous In A Jam range? It's the perfect partner for anyone in your life who's been bitten by the Great British Bake-Off bug. Our Merry Berry Jam with strawberries, raspberries and blackcurrants makes a wonderful filling for cakes, or for something a little different, how about our new Passionfruit Curd? It's a great twist on the classic Lemon Curd (which we also sell), combining a zesty zing of citrus with a smooth, creamy texture.
For the chefs – our chutneys and pickles aren't just for cheeseboards – they're also great for getting creative in the kitchen. For Moroccan recipes, try using our Curried Apple Chutney with dates, or our Lemon & Apricot Pickle, which is full of the delicious flavours of preserved lemons. Curries cry out for our Authentic Mango Chutney and our Hot Lime & Chilli Pickle. Or for a twist on a recipe that everyone's been talking about, Avocado Toast, try our version with a dollop of In A Pickle Sweet Chilli Jam – get our recipe here.
For the adventurers – speaking of playing with fire, at this year's Christmas Market we've got a couple of special limited edition pickles with a serious kick. Our Lemon Habanero Pickle combines the classic flavours of lemon and chilli, while our Pineapple Habanero Chutney is a little sweeter with a lovely warmth to it. We've created these two new products especially for those who find the rest of our range isn't hot enough, so if you know a spice fiend, this is for them.
For the hosts – it's that time of year when you need a few goodies in the cupboard, for the hosts of all the fabulous parties to which you've been invited. Our ever-popular Christmas and Boxing Day chutneys are the perfect little present, and this year we've dressed them up with lovely traditional clip-top jars and foiled labels. Choose one or get both as a set, and guarantee yourself a repeat invite next year.
For the traditionalists – of course, it's not just about the fancy new flavours – our bestselling, tried and tested classics are all still on offer too. From our multiple-award-winning In A Pickle Lily (ideal with cold meats), to our traditional chutneys like Bellringer (made with local ale) to our range of four fabulous marmalades, we've got something to please even the most difficult colleague or family member.
Don't forget – pop down & see us at the Bath Christmas Market, where we have lots of special exclusive offers running, until the 11th of December, or order from the website by the 16th of December to ensure delivery by the 25th. Happy Christmas from In A Pickle!
In A Pickle at the Bath Christmas Market
There's no denying it now – Christmas is officially here, and so is the legendary Bath Christmas Market! Recently named one of the UK's best Christmas markets by both the Metro and the Telegraph, and running until the 11th of December this year, it's absolutely not to be missed – and of course, the number one stop for pickle fans has to be our chalet, number 99, on York St. We've got all sorts of brilliant offers available and even some exclusive products, so make sure you come along & say hello!
Although we love a bit of spice in our pickles and chutneys, last year a few of our Christmas Market visitors asked for something even more fiery – so especially for this year's market, we've created two new products with a serious kick: Pineapple Habanero Chutney and Lemon Habanero Pickle. Lemon and chilli is a mainstay of Indian pickles and goes brilliantly with curries, while the sweetness of pineapple makes it the perfect partner for a bit of a chilli heat – try serving this one with your Christmas ham to shake things up a little. Of course, not everyone likes their food fiery, so we've also developed a lovely new Fig Relish – the sweet jammy flavour of figs makes for a brilliant chutney that deserves an invite to anyone's cheeseboard.
As well as our new products, we've also got all the usual favourites, including our famous Christmas and Boxing Day Chutneys, miniature hampers, a selection of beautiful packaging options and much more. And to top it all off, we're offering tasters of everything too! So come on down & visit us to get a serious head start on your Christmas shopping – or just to buy yourself a few treats. Go on, we won't tell Father Christmas…
The Bath Cook Book
In A Pickle is delighted to announce that we'll be featuring in Meze Publishing's new Bath Cook Book – a delicious collection of recipes and recommendations from some of Bath's best foodie businesses. What's more, we'll have it for sale at our chalet in the Bath Christmas Market (starting on the 24th of November – not long to wait now!) and we'll be offering a FREE jar of our famously fabulous Christmas Chutney with every book. How could you possibly resist?
Here at In A Pickle HQ, we loved the idea of the Bath Cook Book from the get-go – it's a foodie bible for the local area, highlighting all the best places to shop and all sorts of goodies you might not have discovered yet. Of course, there are plenty of delectable recipes too, all created by the producers themselves, so you know they're going to be seriously good. In our section, we've included one of our absolute family favourites, St Stephen's Pie (pictured above), which is a must-have on our Christmas menu every year – a rich creamy filling made with leftover turkey, with a golden puff pastry crust on top. Our In A Pickle Christmas Chutney is the perfect thing to counter the richness, with tart tangy cranberries, which is why we're giving a jar away with every copy of the Bath Cook Book we sell at the Bath Christmas Market. Together, they make the perfect present for local foodies – we reckon even the most knowledgeable will discover something new in this book – and great for visiting Bath-lovers as well. And if you're just here for the day, it makes a lovely souvenir too – go ahead and buy yourself an early Christmas present, you deserve it…
Upcoming Events
Christmas is definitely starting to loom on the horizon now, and we'll be popping up at several fabulous festive events over the next few months, so do be sure to come along & say hello - not to mention stock up on delicious gifts for all your favourite foodies…
KES Parents' Christmas Fair, Saturday 26th of November, 10am-2pm
The annual Christmas Fair at King Edward's School is back on the 26th of November, and we can't wait. We'll be amongst more than 40 local traders selling all sorts of fabulous creations, from jewellery and textiles to food and drink, and there'll also be games, a grotto for Father Christmas, great food from the café and a raffle. Click here for more information.
Hartley Farm Christmas Fayre, Saturday 26th of November, 10am-4pm
The eagle-eyed may have already noticed that this is the second event on the 26th of November, but fear not, we're planning to be at both! The Hartley Farm Christmas Fayre is a celebration of festive feasting, with great food demos throughout the day, a producers' market, carol singing and of course plenty of food & drink to enjoy. Click here for more information.
The Ideal Home Show at Christmas, EventCity Manchester, 10th-13th of November
We're travelling a bit further afield for this one, but Steph, the brains behind In A Pickle, is a Manchester girl and couldn't resist going back to her roots. The Ideal Home Show is legendary and this year's Christmas event promises to be quite sensational, with a huge range of exhibitors selling all sorts of gifts - we'll be at stand F765 in the food & drink section, with hampers, gift sets and all our bestsellers, guaranteed to please the foodies in your life. As well as shopping, though, there's also plenty of entertainment, including talks on everything from Christmas floristry to the art of gift wrapping, cookery demos with celebrity chefs like Gino D'Acampo and James Martin, great live music, and pop up restaurants & bars. It's the perfect place to make a serious dent in your Christmas shopping and get in the festive mood – check out the Ideal Home Show at Christmas website for full information and to buy tickets.
Bath Christmas Market, 24th November-11th December
Set around the historic Bath Abbey, this is surely one of the country's most beautiful and atmospheric Christmas markets, featuring incredible independent vendors – 75% of all the gifts for sale are handmade in the UK. As well as shopping, you can also enjoy a huge range of brilliant street food, and Bath Abbey's ever-popular Shoppers' Carols – short services with Christmas carols throughout the day, the perfect way to take a break. For more information visit the Bath Christmas Market website – keep an eye out for a map (we'll be in Chalet 91) and full details nearer the time, and don't forget to pop down & say hello to us.
Christmas Packaging from In A Pickle
Calling all stockists looking for something fresh & fabulous to put on the shelves this Christmas: we've given our always-popular festive chutneys a makeover, adding gorgeous limited-edition foiled labels to really make them pop.
Our Christmas Chutney is packed with juicy cranberries, making it the perfect partner for roast turkey (no need to make your own cranberry sauce – let's face it, one less thing to do for the Christmas lunch can only be good). To match, we've given it a new red and gold livery so it looks fabulously festive. Our Boxing Day Chutney was created to complement all those amazing leftovers, from cold meats to the cheeseboard, and brings together cranberries, apples and festive spices, so we've decked it out in green and silver. We've also chosen one of our most popular bestsellers, Bellringer Chutney (made with local Wiltshire ale) for a little makeover, with a beautiful blue and silver label. Not only does this really make them stand out on the shelf, but the new packaging also turns these little beauties into the perfect gift – and makes them worthy of an invite to the Christmas table. The Christmas & Boxing Day Chutneys make a lovely pair for a gift, and with all Christmas wholesale orders we'll be sending out our two-jar giftboxes, flatpacked, for you to offer alongside any combination of two jars.
As well as these goodies, we do of course have the rest of our full range available to order – during the festive period, we find that bestsellers include our multiple-award-winning In A Pickle Lily (a classic mild mustard piccalilli packed with crunchy vegetables, and always good with leftovers, especially cold meats) and our Gamekeepers Relish (a lovely courgette chutney that, as the name suggests, pairs perfectly with game – a classic component of all sorts of winter warmer dishes). Our range of marmalades also sells very well at Christmas: English Breakfast (for the traditionalists), Chunky Seville Orange Marmalade (using the best Seville oranges for maximum flavour), Orange & Ginger Marmalade (for a bit of a kick, to warm you up on a frosty morning) and St Clements Marmalade (made with oranges, lemons and grapefruit, for a tangy twist). For full product information, click here to visit our online shop, and to place a wholesale order or for any enquiries, do feel free to email sales@inapicklefoodco.co.uk.